Mexico, Indonesia, Nigeria and Turkey - the 'MINT' countries set for future growth - build and export millions of cars. WeLoveAnyCar.com predicts a time when the world's drivers will be driving a car in 'mint' condition from a MINT country.
Millions of cars are being built in the four 'MINT' countries singled out to watch for global growth,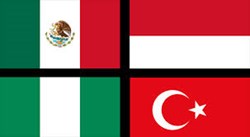 MINT country flags
By far the smallest MINT nation in car terms is Nigeria which has seen slow investment by foreign companies. The INNOSON Vehicle Manufacturing Company is home grown with big ambitions. In Nigeria's favour is growing affluence and a large, younger, economically active indigenous population.
In their work for the Oxford Journal, Hallak and Schott analysed countries by production quality and found Mexico, Turkey and Indonesia ranked in the bottom 40%. Nigeria was not included. It is likely that global car companies will insist on quality production but this is not guaranteed.