The hidden face of dirty, festering cars is revealed in a list of the most appalling finds and stomach churning car litter. It appears that some car owners have no shame when sending their car for a spring clean. WeLoveAnyCar.com asked car cleaners to list their top 10 hates.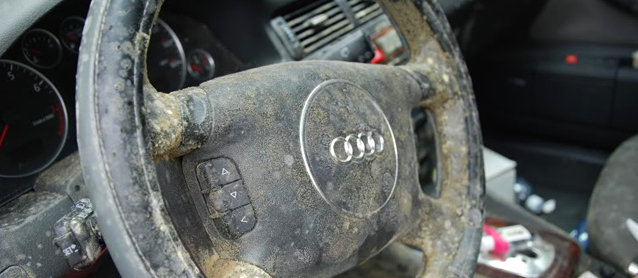 How Dirty Can A Car Be?
Car Cleaners: The Top 10 Dirty Car Finds
Dried 'boogies' on the underside of the steering wheel
Rancid food including cheese, meat and putrid vegetables
Used tissues loaded
Baby and kid vomit
Slime and mould – usually as a result of wet garments and shoes
Used nappies and other sanitary items
Vermin including mice, fleas, worms and maggots
Disgusting smells – unspecified
Cigarette butts and ash
Mud, animal dung, oil, grass sludge, etc
Money Doesn't Mean Clean
Cars are often the second biggest asset people own. According to car cleaners, however, the value of the car is often odds with the garbage found in it. One car cleaner (who didn't want to be named) said, "I've cleaned cars worth over £100,000 and they've made me physically sick with the smell and the stuff I've found in them."
Stop Press...
Who is the better driver? Take our 1 minute confidential survey to win an iphone or £500.
Click here.
Driver Detritus
Car cleaners turn a blind eye to most driver detritus. The competitive nature of car cleaning services has cut the cost of a car valet in real terms and they can't afford to be too fussy. However the line has to be drawn when it comes to the unsafe and the hazardous. A list of items found by car cleaners included:
A dead bird: "I wondered where the feathers came from."
Maggots: "I forgot to take the maggot jar out last month, I thought flies in the car was strange"
Dirty nappy: "Oh yes. We were caught short. I meant to take it out last month"
Packed lunch: "Robin went on a school trip. That was three months ago."
Putrid meat: "I couldn't resist that farmers market last month."
Posh Lady - Expensive Car - Dirty Little Secrets
Some car owners even leave sanitary materials and other intimate items in their car. One car cleaner said, "Nothing surprises me now. I've seen everything and quite often even the poshest lady driver can have the most surprising dirty little secrets hidden in their car."
WeLoveAnycar.com is probably the biggest car review site in the World. Car owners rate the economy, driving experience, reliability and if they would recommend their car to another driver. It doesn't rate car cleanliness.
Photo credit: http://www.thehogring.com/2013/05/15/should-auto-upholstery-shops-charge-a-dirt-tax/